48th Dysart's Ride-In
Benefit Pine Tree Camp/Q106.5 Virtual Egg Ride:
"Being able to continue to go to Pine Tree Camp – no matter what – has been so positive for us during this time. "
Pine Tree Camp has been there for our campers and their families no matter what, because YOU have been there for us. Through thick and thin – you are there.
And now as we kick off the 48th annual Dysart's Snowmobile Ride-in to benefit Pine Tree Camp, you are more important than ever. Why? Like everything else, this critical fundraising event will look a bit different this year, but the need to raise money to ensure Pine Tree Camps Open Door policy is firmly in place remains.
THIS WEEK ONLY – Generous donors will match $5000 if we can raise $5000 during our Pine Tree Camp to You Holiday Celebration! How can YOU help? It's easy!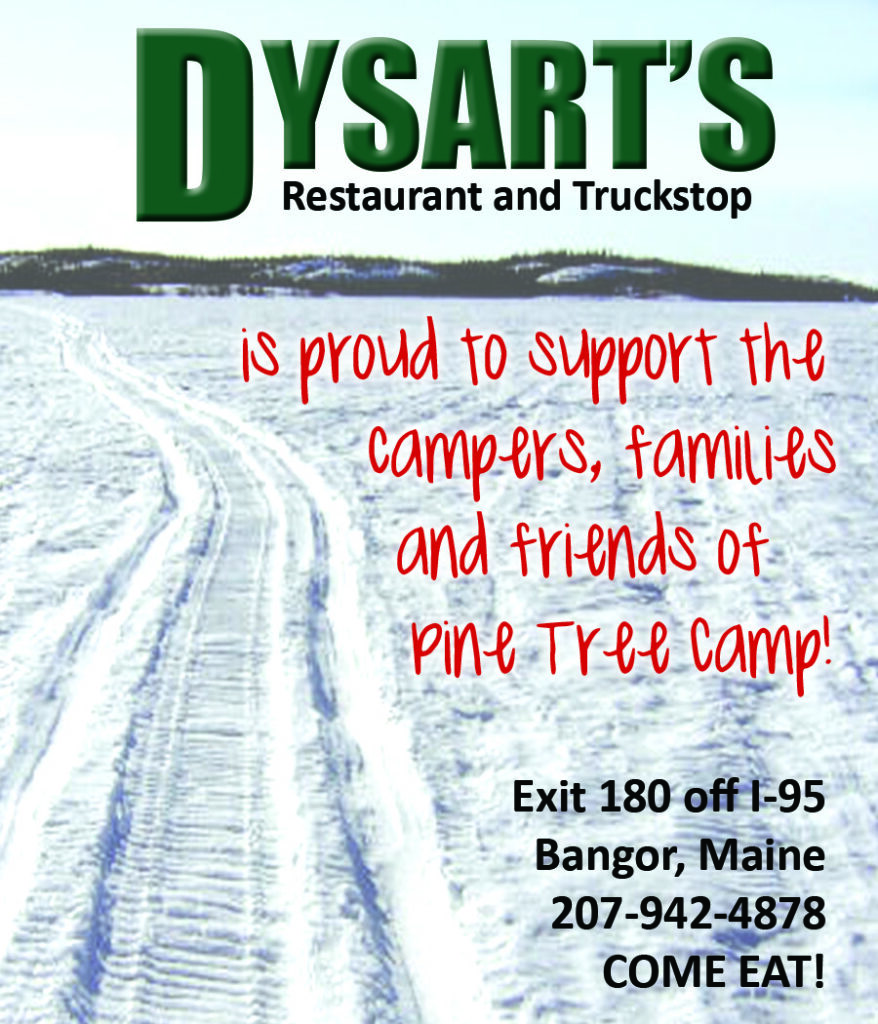 1. CREATE YOUR OWN FUNDRAISING PAGE. Join us! It's so easy and will make such an impact. Whether you are a Pine Tree camper, snowmobile club member, or you just love Pine Tree Camp and want to help – Create your page and share it with family, friends and coworkers anywhere. You can even form a team or join the Pine Tree Camp team. Just click the START FUNDRAISING button to get started!
2. DONATE. Every dollar raised will go right to Pine Tree Camp to ensure that all are able to benefit from the Pine Tree Camp experience regardless of their ability to pay tuition. Our Open Door policy has been firmly in place since Pine Tree Camp opened in 1945. Just click the DONATE button to make your gift.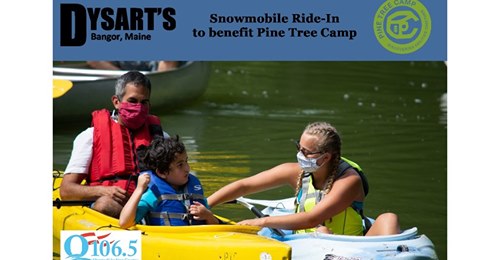 The Q106.5 Snowmobile Egg Ride will not be on the snow this year, but the spirit of the event continues! Tune into Q106.5, Maine's #1 for New Country throughout January to hear live interviews with top fundraisers, campers and the Pine Tree Camp team plus special on-air events in late January.
Throughout this challenging time with Covid-19, Pine Tree Camp has continued to innovate and adapt how we serve our camp community and beyond. Through that innovation came brand new programming such as our Pine Tree Camp to You and Adventure Day Pass that has impacted more than 750 people so far. Looking ahead to 2021, we will be launching a winter Adventure Day Pass that will continue our goal of making the outdoors as accessible as possible through camp. We will also keep providing our online Pine Tree Camp to You program over the course of the cold winter months to keep everyone engaged and connected. We continue to monitor the situation with Covid-19 and are planning multiple scenarios for the spring and summer of 2021.
100% of all proceeds go directly to support Pine Tree Camps Open-Door policy fund and help ensure every Maine child who can benefit from Pine Tree Camp is able to participate, regardless of their ability to pay. Visit www.pinetreesociety.org
Sponsorship Opportunities – If you are a business interested in supporting Pine Tree Camp, contact kdorer@pinetreesociety.org or 207.386.5915.