Baking with Yeast
November 9, 2020
A behind the scenes look into producing our unforgettable homemade rolls Dysart's Bakery
HERMON, ME
Here at Dysart's we have a committed team of bakers who ensemble over 300 dozen homemade rolls and 1200 loaves of bread for our Restaurants and Travel Stops every week. What makes our products so delicious, keeping you on your toes asking the notorious question: when's our next visit to Dysart's? We've asked the experts who bake it all.
Our bakers rise before the sun. Starting their shifts at 3 o'clock in the morning, our committed team gloves (and masks, of course) up during wee hours of the morning. Delivering delicious baked goods is one of the things we do best; join us in showing you exactly how we do it!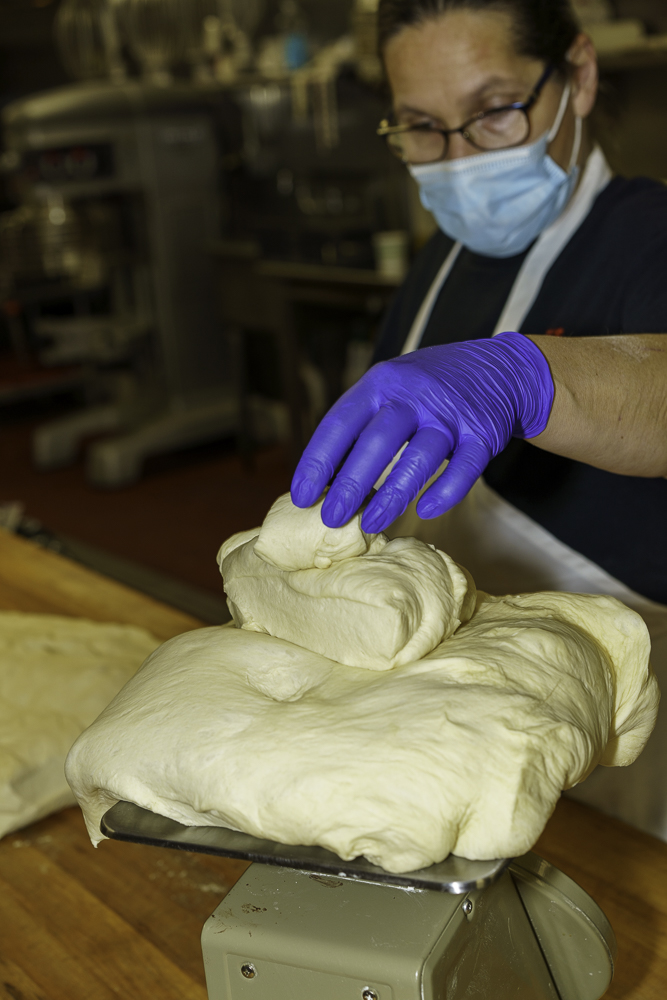 Did someone say homemade rolls? We're bringing you along for a tour of the bakery area at our Hermon Truck Stop with our talented baker, Carole. Our bakers have perfected the science of creating an everlasting culinary experience, anticipating each bite and asking when you're going to come back for more.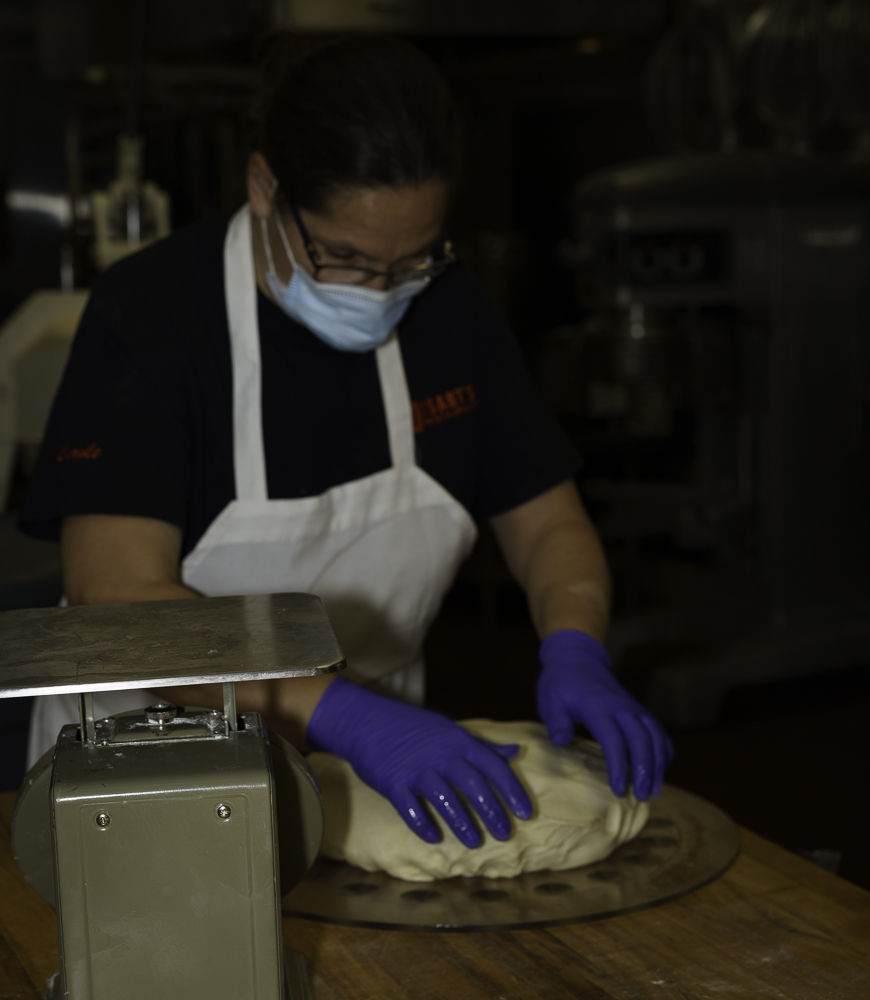 The key to success is maintaining consistent dough balls. Our team of bakers utilize a kitchen scale to deliver the same product across the board. In our kitchens we have "The Dutches", a culinary tool to help support this mathematical baking function.
The Dutches starts with the weighed dough ball and it cuts the dough into equally sized balls, delivering the same product at all Dysart's Truck Stops and Restaurants. After all, that's one of the things Dysart's does best; that's why you can always count on us!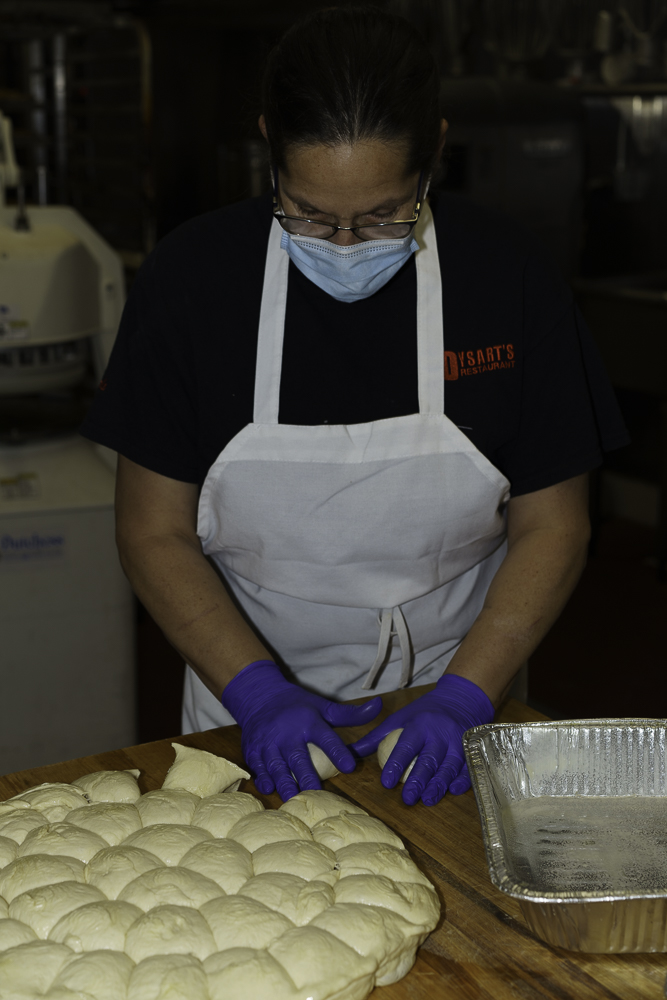 Carole gently rolls the dough using her cupped fingers and palm. Our bakers roll each dough ball individually, making them the correct shape. All good things take time, including our homemade rolls. That's why we let them sit to proof before putting them in our ovens, baking to perfection.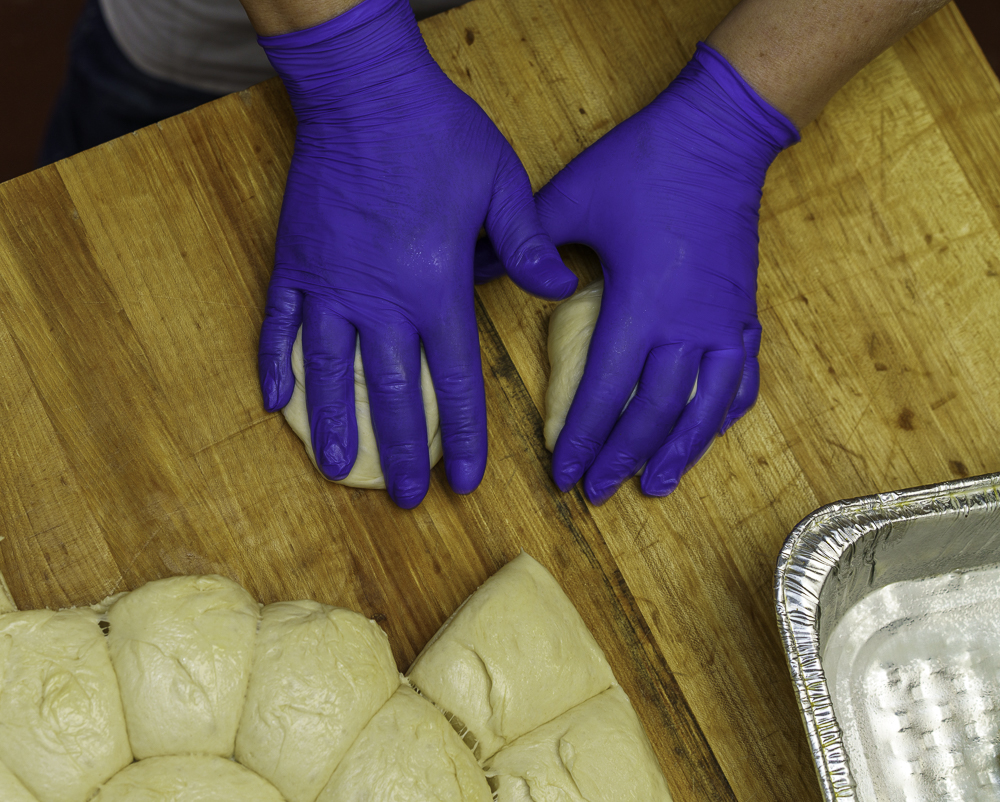 Who doesn't love the smell of freshly baked bread? People say you can get tired of smelling something every day. However, I've been surrounded by the essence of fresh out of the oven Dysart's homemade rolls for over 50 years; an aroma that I will always love.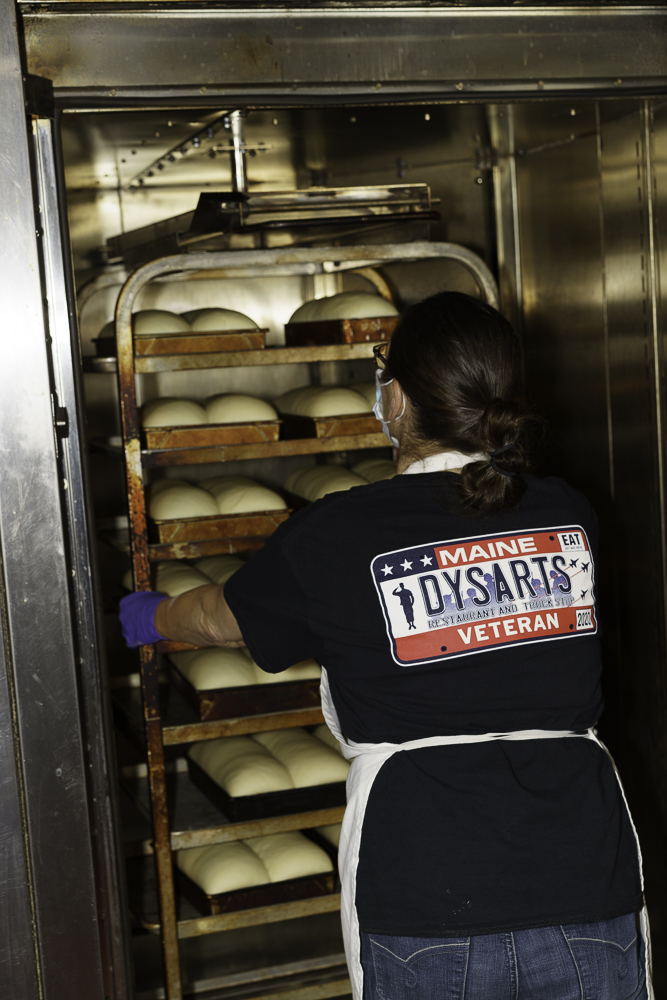 How do we deliver an abundance of rolls to our eight Travel Stops and two Restaurants? We've got the power of a the walk-in oven to help Dysart's deliver our promise to our committed patrons. The walk-in oven will bake the bread and rolls on racks that are later transmitted into ovens. That's how our customers get to experience the fresh out of the oven mouth-watering sensation after every bite.
After the bread and rolls are baked and cooled our team individually packages them and transports to one of our eight Dysart locations. Soft, golden rolls baked by our kitchen are perfect for your breakfast, lunch, and dinner. Want our outstanding homemade rolls for all three? We promise not to tell!
In my opinion, the best part of Thanksgiving dinner is the rolls. I mean, how would you sop up all of the flavorful turkey gravy? Want to try one? Stop by Dysart's today to get yours!
See you at Dysart's! Come eat!
-Mary Dysart Hartt