Bees to Blueberry Muffins
August 1, 2020
Wild blueberries are Maine's state fruit.

Every day, at Dysart's, we see trucks and professional drivers moving products that are critical to Maine's economy, to our families, to our businesses, and so much more. 'You' might look out the windows at Dysart's and just see trucks. What you are really seeing is products being moved.
Have you ever pulled into Dysart's pumps and noticed a truck with boxes covered by a net? These trucks are full of bees that are critical to Maine's agriculture: thousands and thousands of bees. The bees are being trucked Downeast and maybe up north to Aroostook where they will will pollinate agriculture for us to enjoy.
In June, we see these bees being trucked to the blueberry barrens in Downeast Maine. Now, in August, in the barrens, blueberries sit ripening in the sun, awaiting the rake. The trucks will haul this years berries out of Downeast Maine and around the country because Maine blueberries are the best!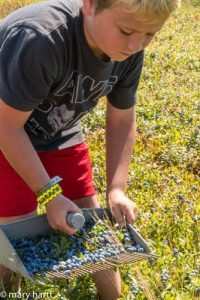 The wild blueberry, sometimes called the low-bush blueberry, is native to Maine and thrives in its glacier-churned soil and challenging seasons. … Maine is the United States largest producer of wild blueberries.
If you have not been to the blueberry barrens, you are missing out. In places you feel like you can see for miles and miles. I try to go every fall after a frost. The blueberry bushes turn a bright red. I'm looking for the perfect photo to show the beauty.
Mary Dysart Hartt
Maine Blueberry Muffins
2 cups all purpose flour
1/2 cup white sugar
1/2 teaspoon salt
1 Tablespoon Baking Powder
1 egg
1/4 cup oil
1 teaspoon vanilla
1 cup milk
2 cup blueberries fresh or frozen
Mix flour, sugar, salt and baking powder together in a bowl. Lightly beat the eggs, and then add eggs, oil, milk and vanilla to dry ingredients, Mix together until moistened. Be very gentle adding the berries. Stir only until berries are mixed so you don't crush the berries.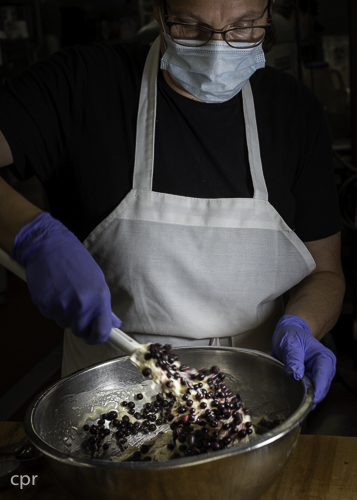 Using an ice cream scoop will help to ensure all the tins are filled the same. Dysart's uses paper muffin cups.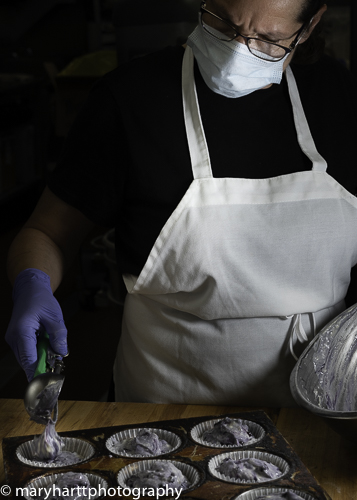 Here are a few pro tips.
This recipe can also make muffin variations. Add 1/2 cup of walnuts if you are a nut lover. It adds an interesting crunch. Substitute 1/2 the blueberries for raspberries to change the muffins into bumbleberry.
Internal temperature of muffins should be 200 degrees when fully cooked. Bake for around 350 degrees for 30 minutes.
You should take the muffins our of the tins immediately after they are done. This will prevent them from steaming and getting soggy.