Perfect Gift for Mom
May 2, 2020
What makes you think of spring more than strawberry rhubarb pie? What will make the Mom in your life happier than a pie?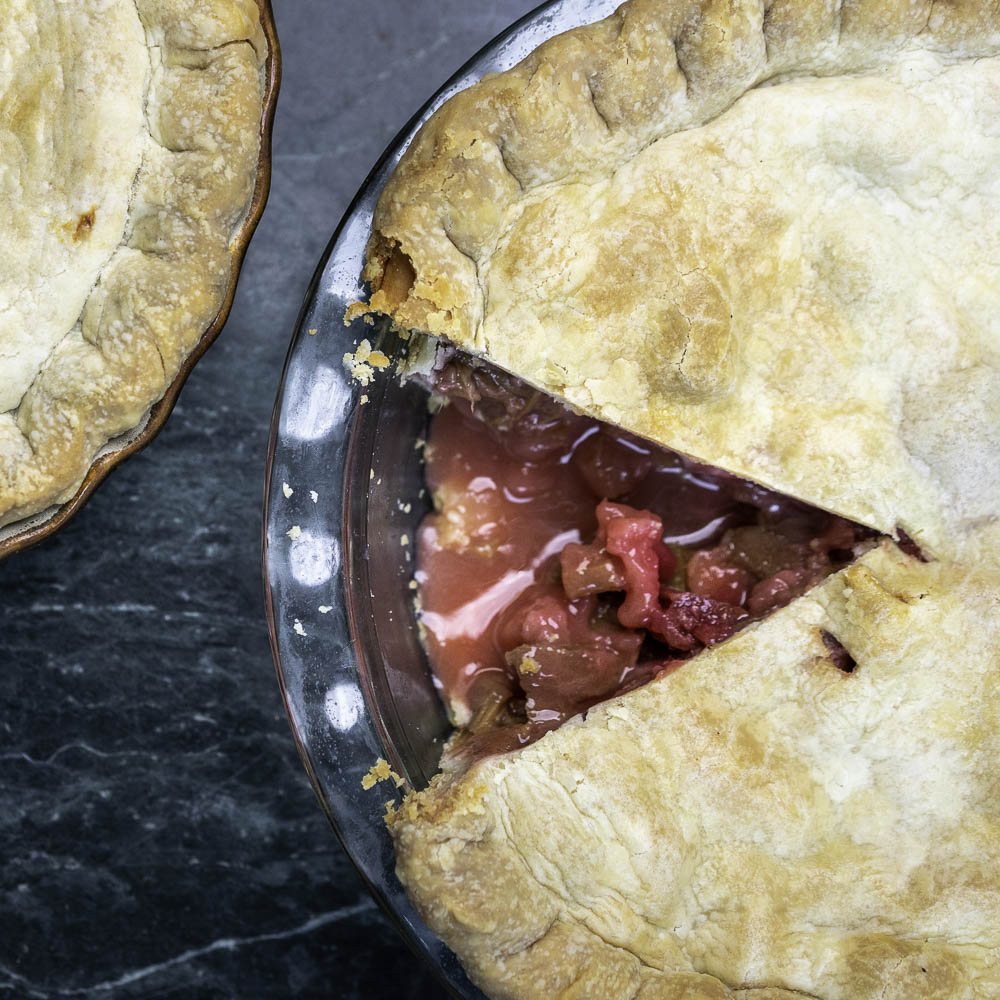 This pie is a wonderful combination of sweet strawberries combined with tart rhubarb in a buttery flaky crust. At Dysart's it's a tradition to start serving strawberry rhubarb every year for Mother's Day. To add a shameless plug – call Dysarts Restaurant, we will make one for the Mom in your life.
To make a Dysart's pie at home I enlisted Carole Brooks, master baker, for tips.
For flaky crust keep everything as cold as possible.
Work the dough as little as possible. Too much mixing makes a tough crust.
Don't stretch the dough. Roll it bigger than your plate so it drops in with crust to spare.
Temp the cooked pie at 190 to 200 degrees to ensure the pie "sets up"
Foil around the edges (after an hour) keeps the edge crust from getting too dark.
Betty Feeney pie crust. (from the cookbook, Cooking with Dysart's) For over 40 years Betty was the face of Dysart's Restaurant. She was our original pasty chef and set a high standard for all the chefs to follow.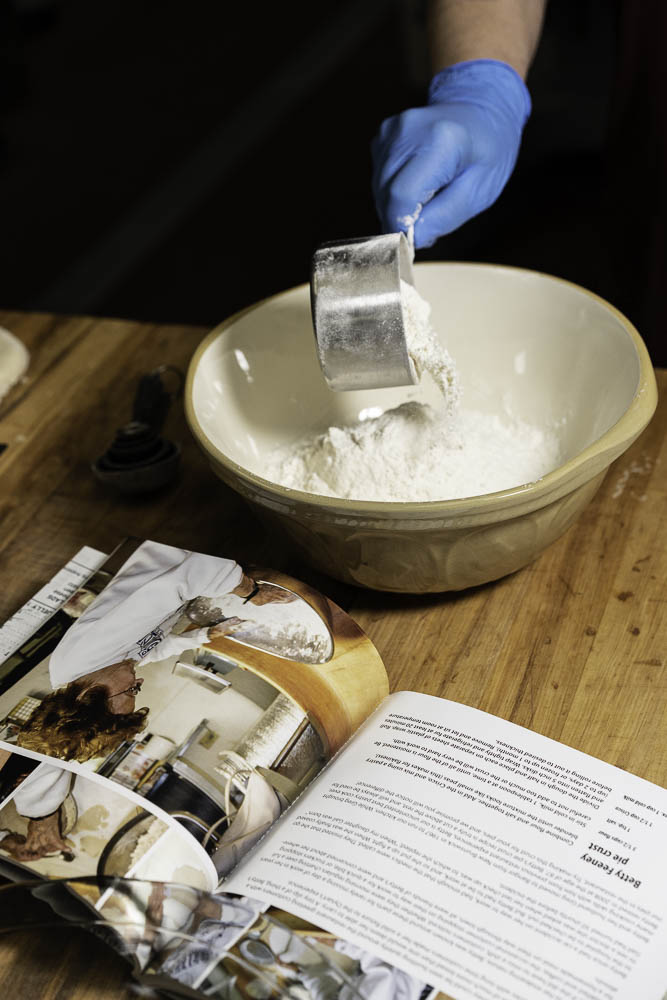 3 1/2 cups flour
1 teaspoon salt
1 1/4 cups Crisco or lard
4 tablespoons butter
Approximately 1 cup cold milk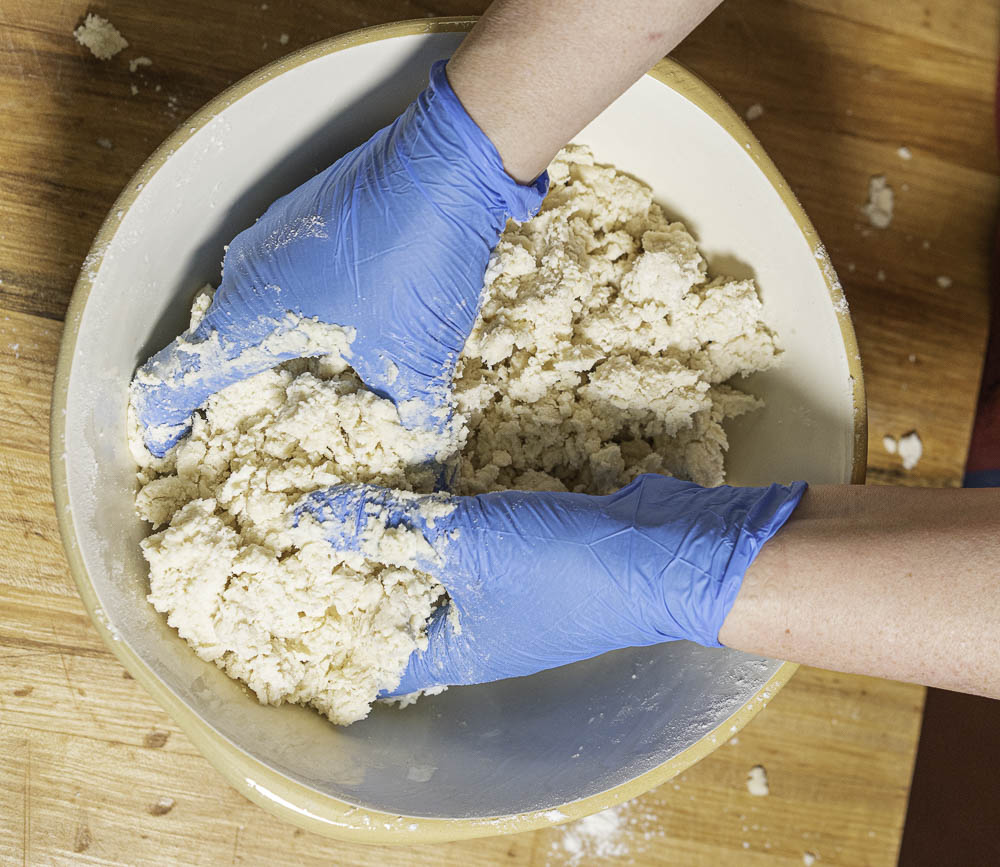 Combine flour and salt together. Add in the butter and Crisco or lard. Mix using your hands by running the ingredients between your thumb and fingers until the mixture looks like small peas. (Coarse crumbs) You can't hurt the crust by over working it at this point.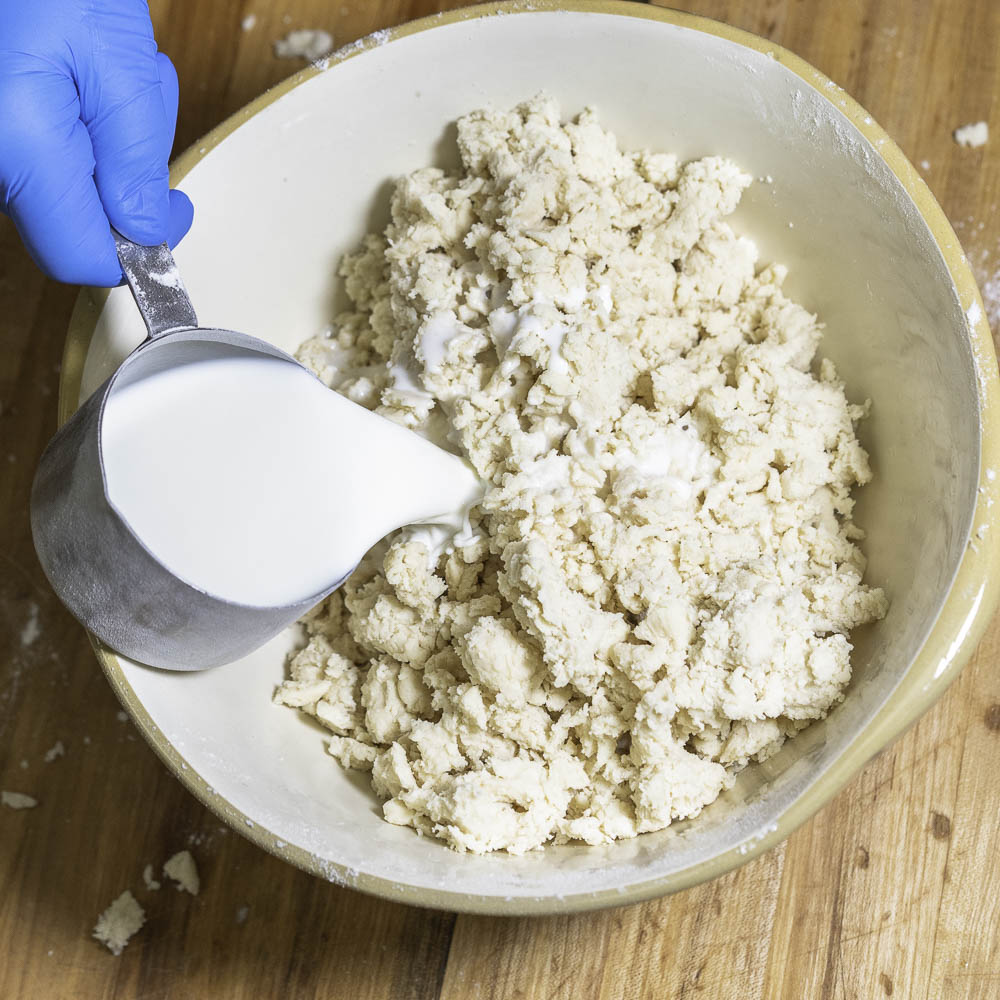 Pour the cold milk in. Here is where you want to mix sparingly. Mix just enough to form a ball.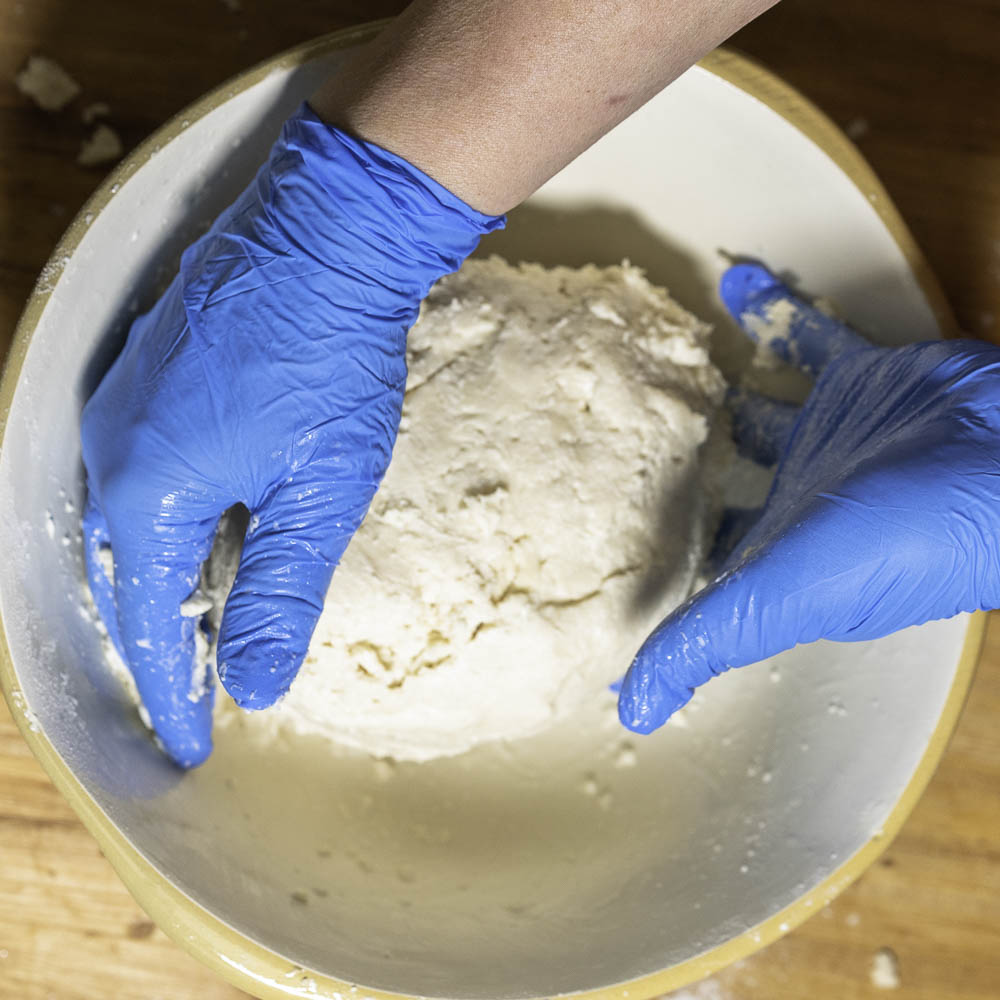 Divide in half. Shape each half into a round ball. Chill. At Dysart's we chill it overnight. Chilling is necessary because it allows the gluten to relax and prevent shrinkage. This is the secret for a flaky crust.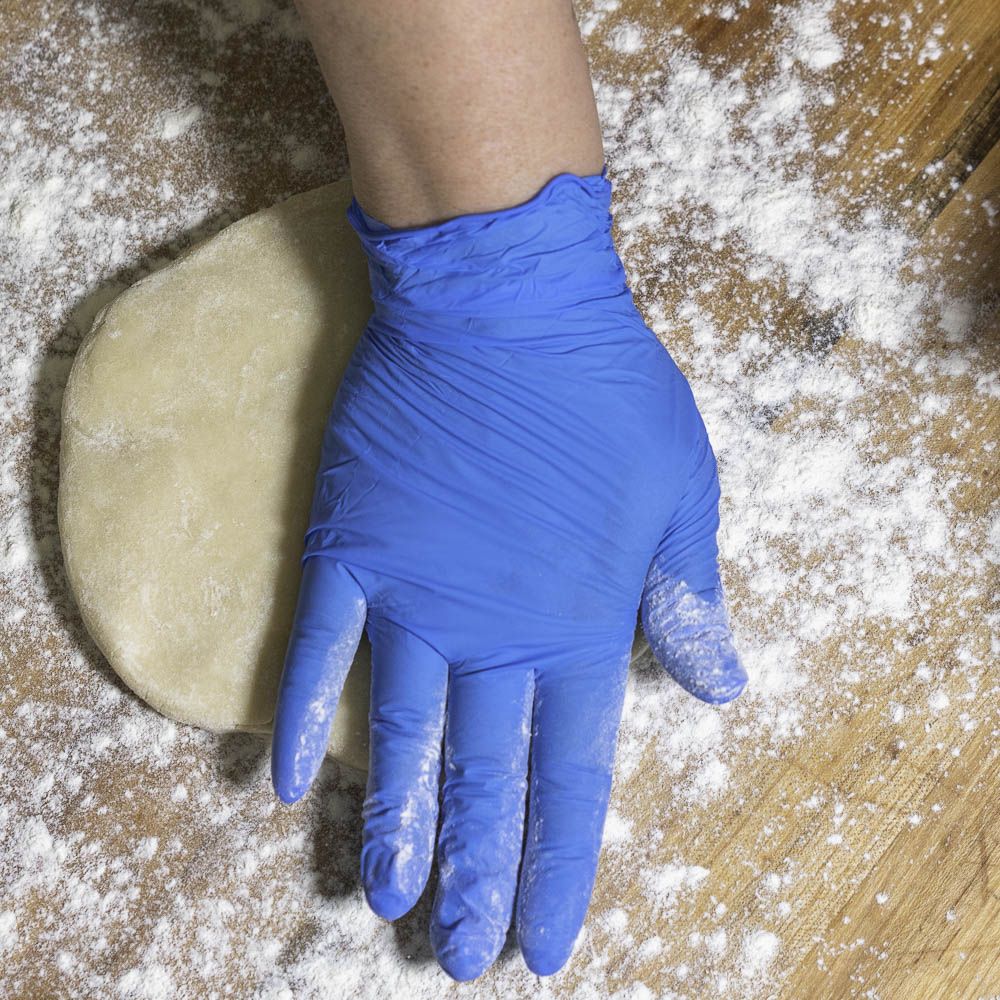 Spread a little flour on your board and roller. Flatten the dough with your hand in a round shape.
You need to roll the crust 1 or 2 inches wider than your pan. Dysart's uses 11 inch deep plates. This recipe is for a home 9 inch plate. Flatten with a hand roller not quite 1/8 of an inch thick. Be careful not to add extra flour as that makes the crust tough.
Fold the crust in half. Gently lift it into your pan.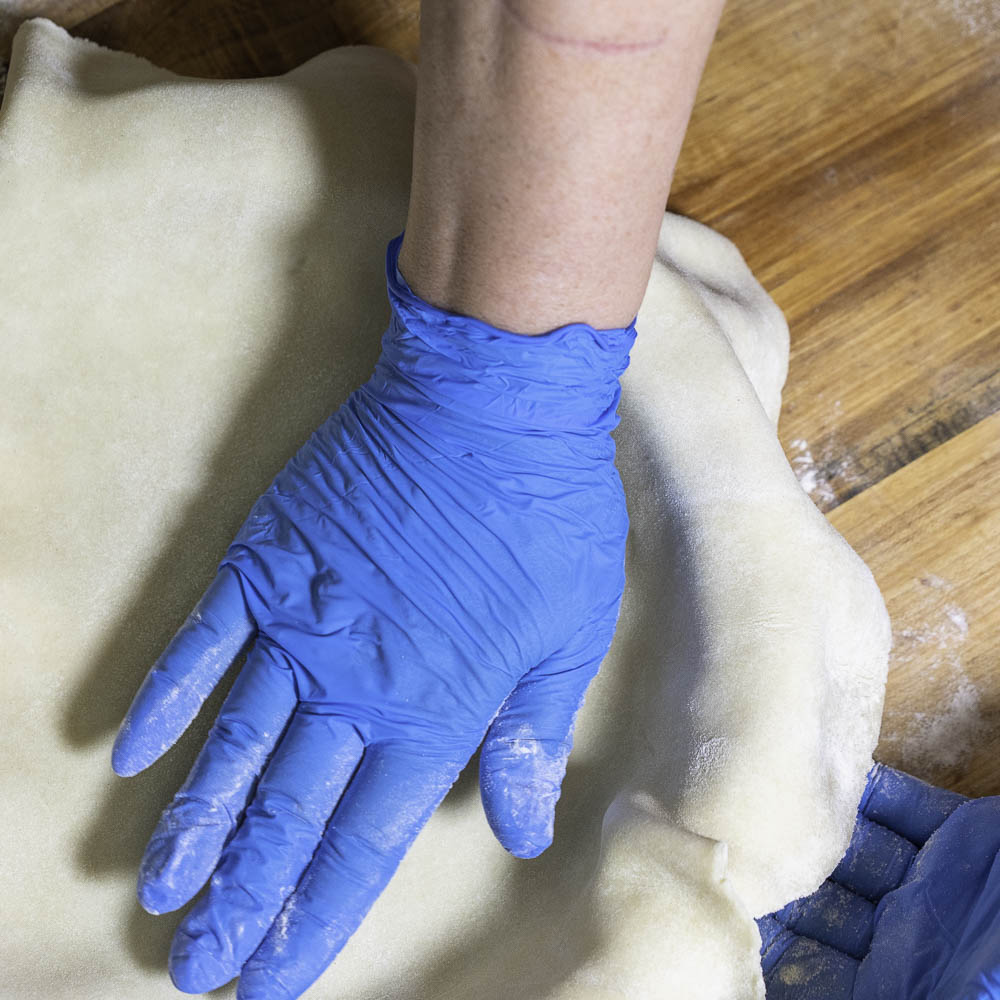 Gently tap the dough to fit in the plate. Avoid stretching.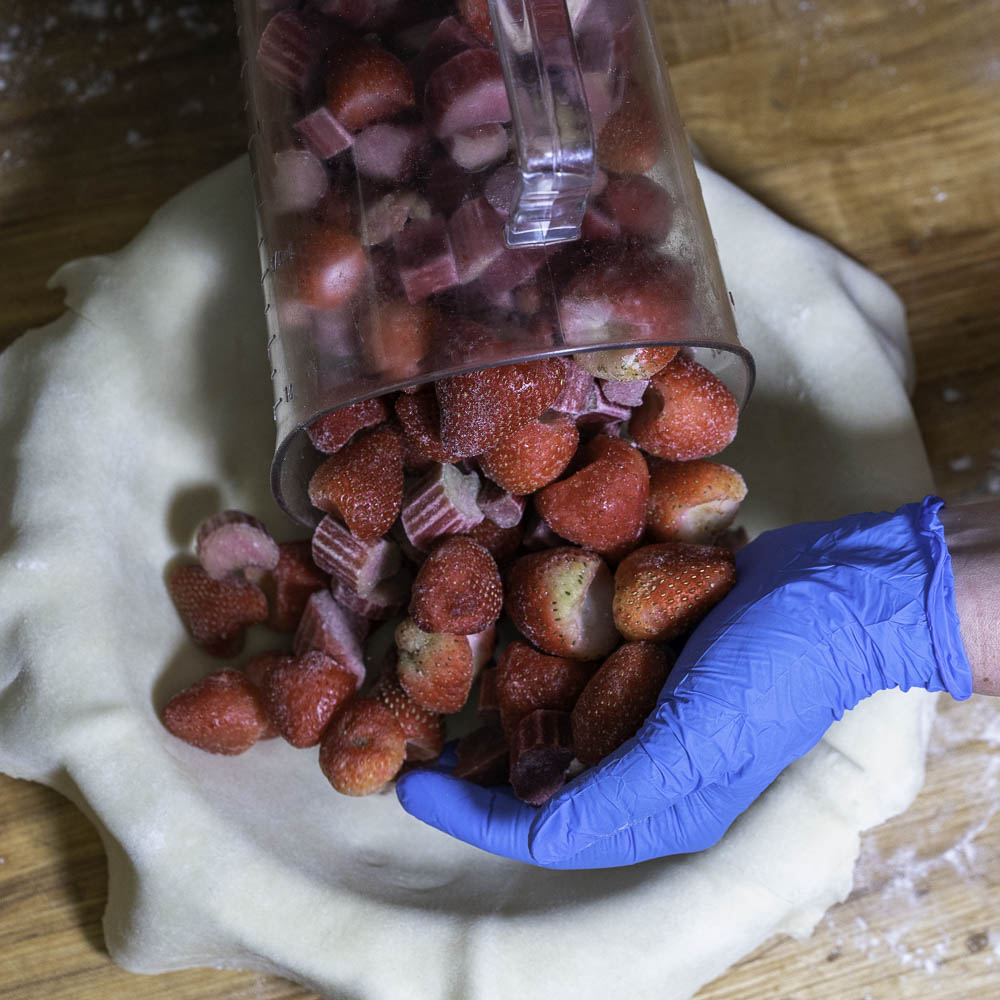 Strawberry Rhubarb Filling
At Dysart's we use IQF fruit (individually quick frozen)
3 cups strawberries. Fresh or frozen
3 cups rhubarb. Fresh or frozen
1 tablespoon lemon juice
1 1/3 cups sugar
6 tablespoons flour
3 tablespoons cornstarch
3 tablespoons butter (approximately)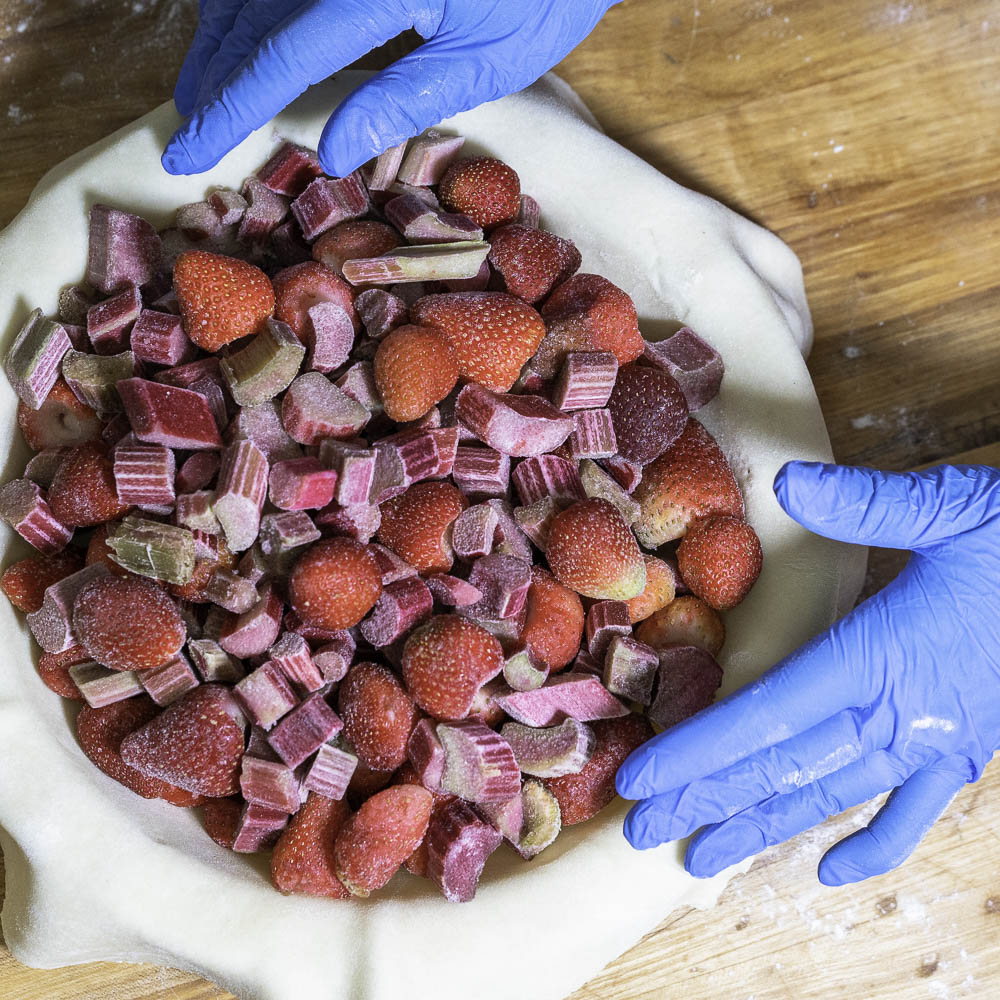 Pour the fruit into the pie plate. Distribute evenly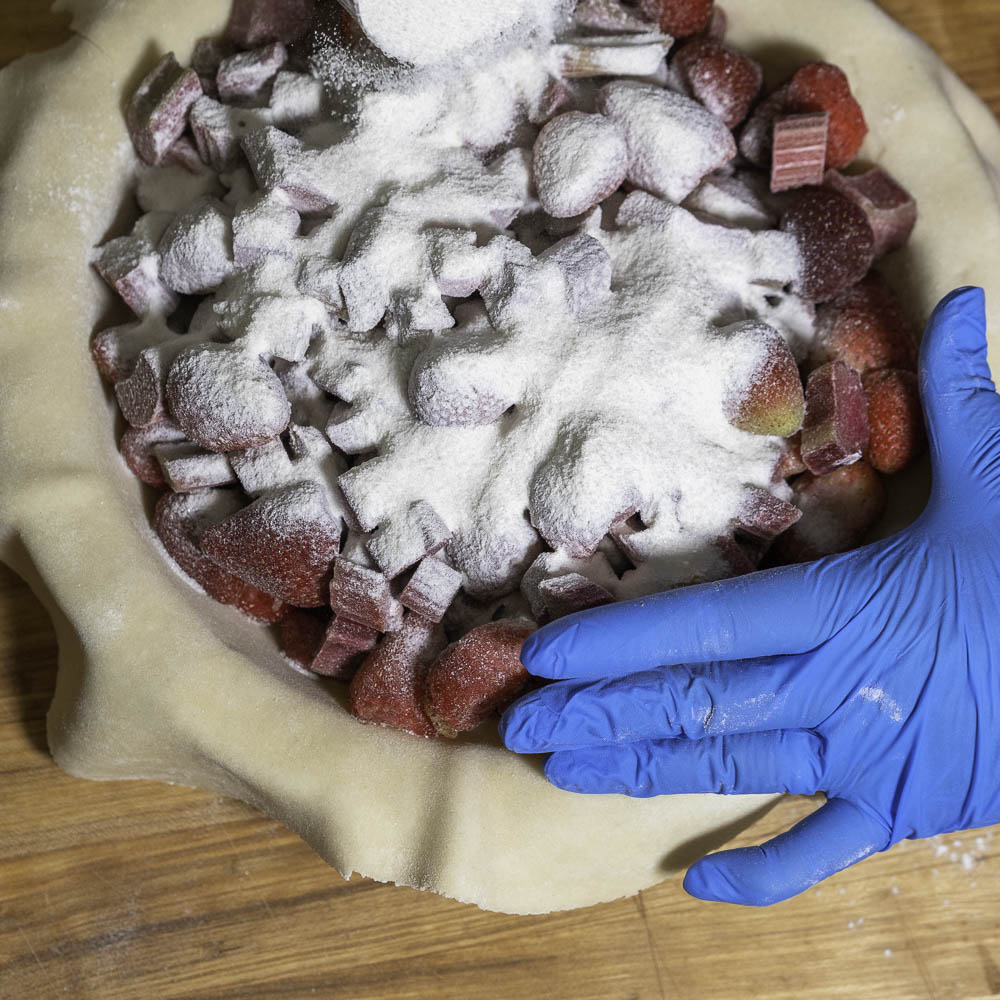 In a mixing bowl combine sugar, flour and corn starch. Mix well. Pour over the fruit. Gently mix in. Sprinkle the top with lemon juice. Dot with butter.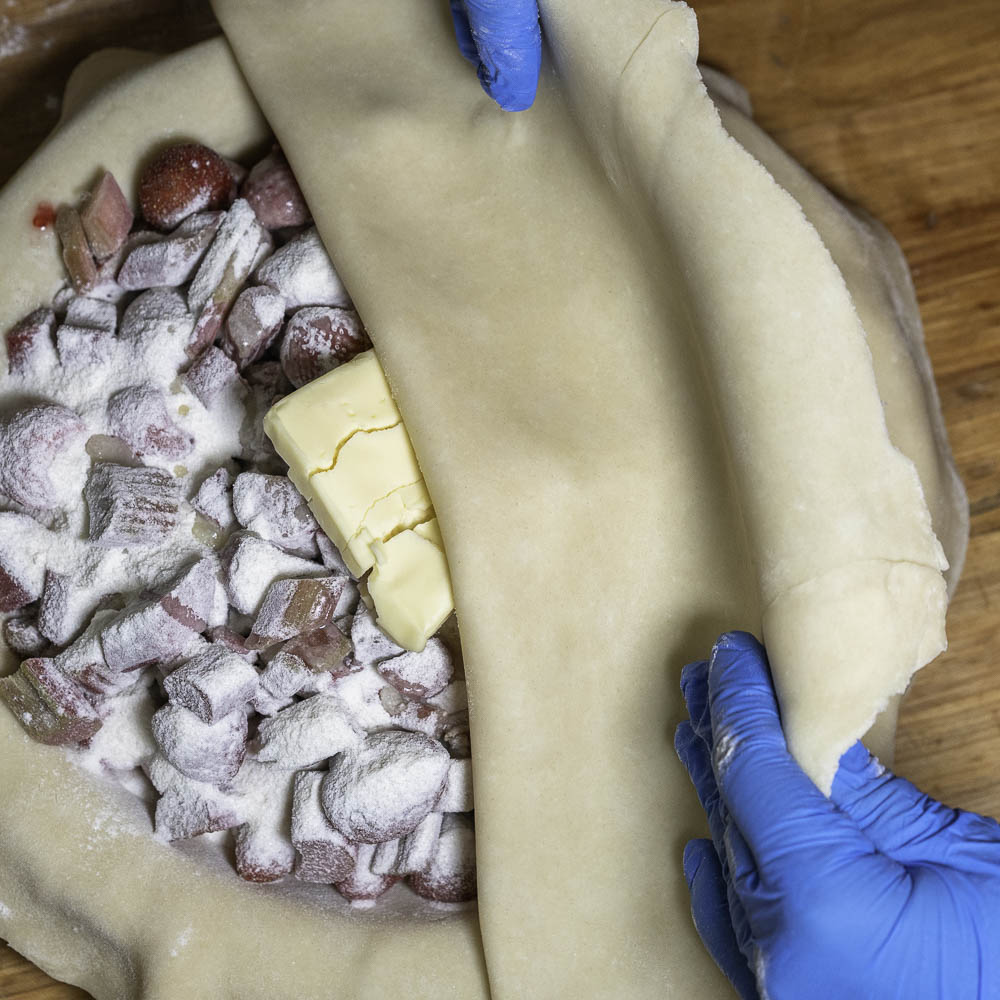 Carefully place the top crust evenly over the filling. Unfold.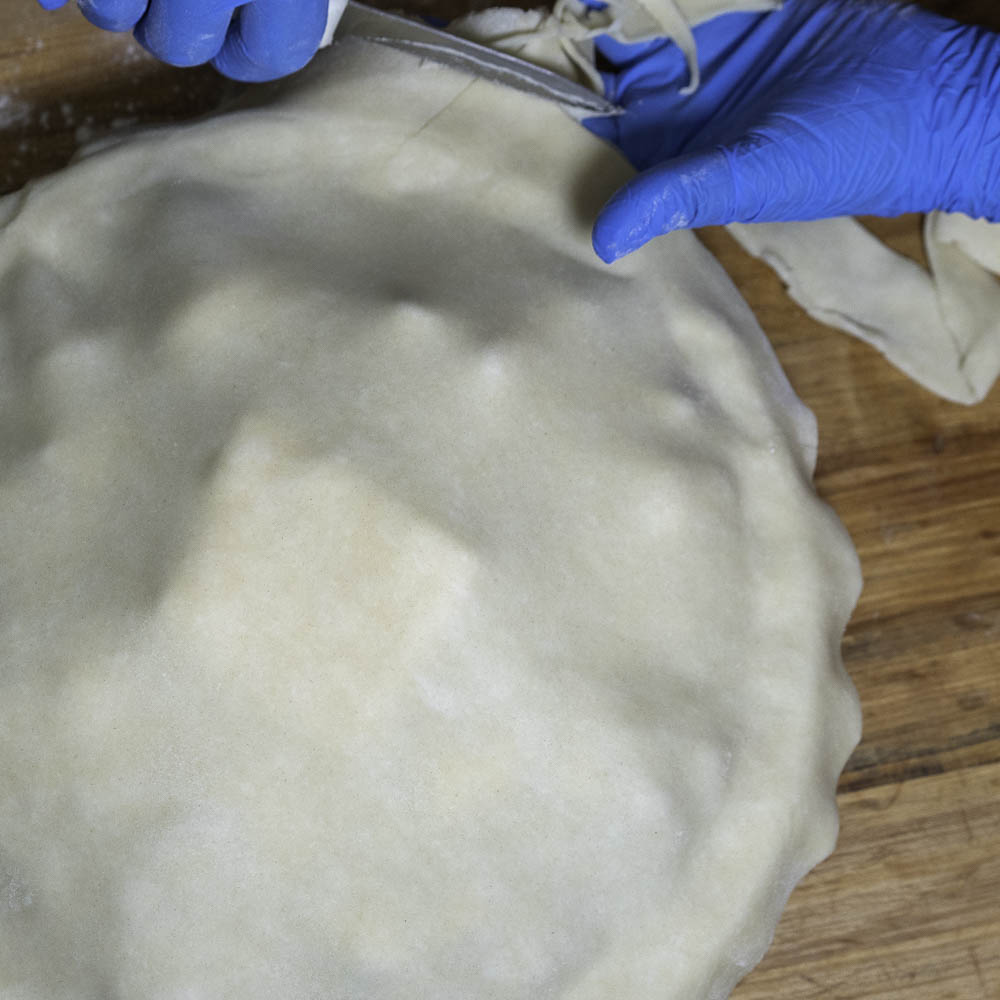 Cut the crust about an inch wider than the pie pan.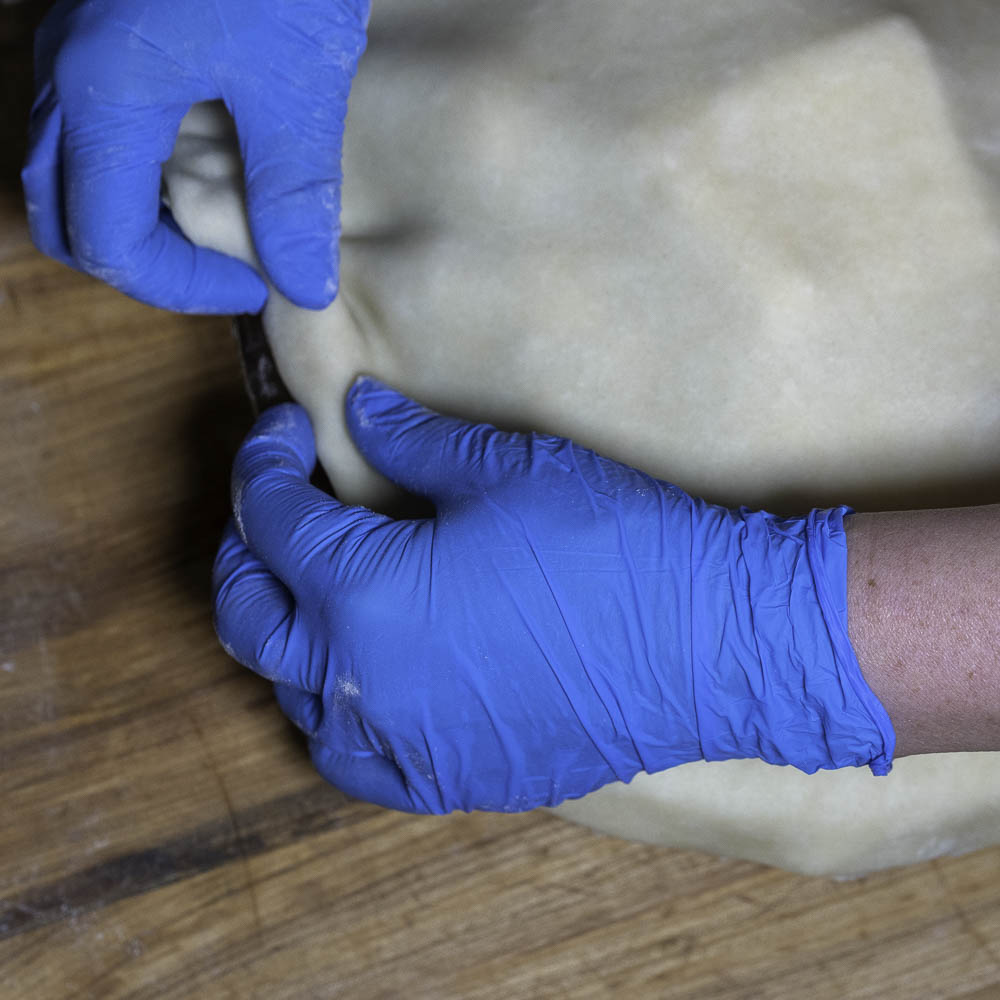 Fold the edges under the edge of the lower crust. Press down on the edges to bond the two crusts together. Crimp the crusts between thumbs and forefingers.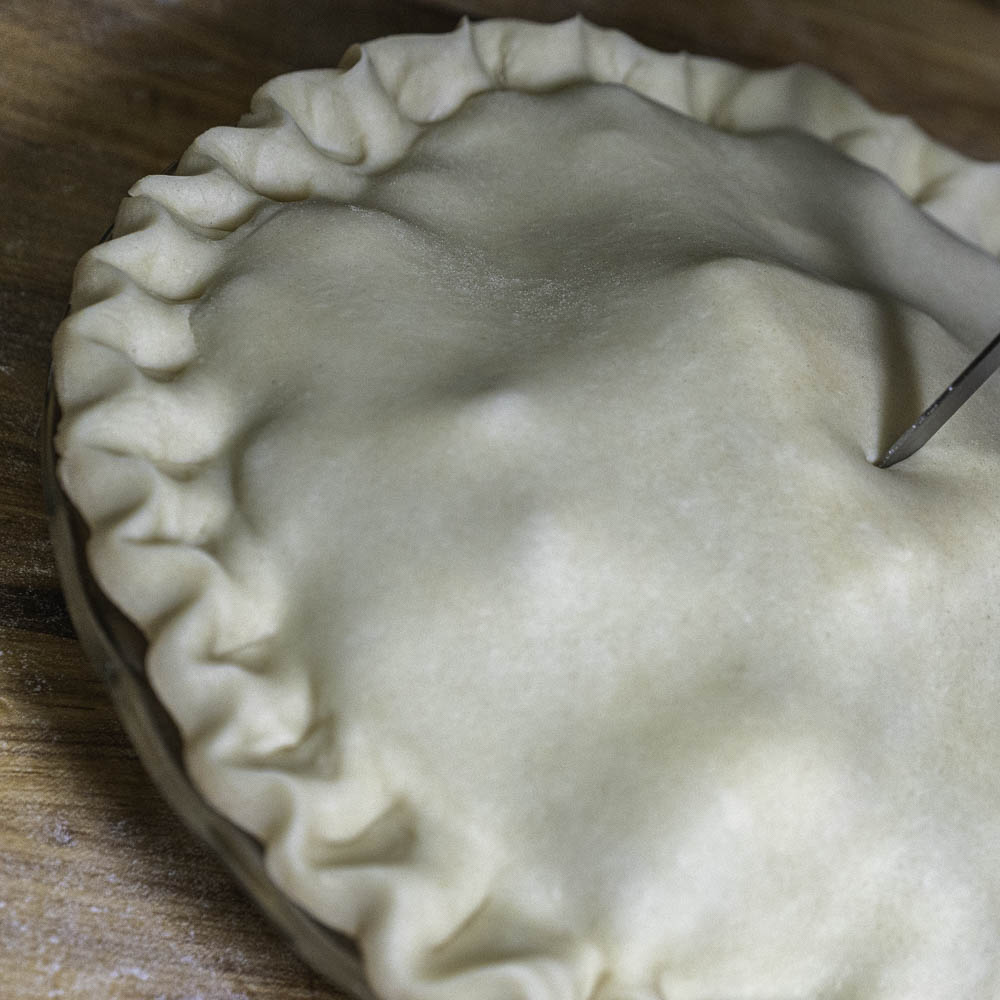 Slit the top to let the steam out. Bake at 350 for 1 to 1:15 hour (fresh fruit). Add 30 min. for frozen fruit