Pumpkin Chocolate Chip Bread
May 25, 2020
Have you tried the Pumpkin Chocolate Chip Bread at Dysarts? Well you should! When it is baking in our Coldbrook Road bakery the air is filled with the smell of a combination of spices and pumpkin. The bread is so delicious each bite entices you to another. I will hide it from myself in my home freezer, but it keeps calling my name . It is amazing.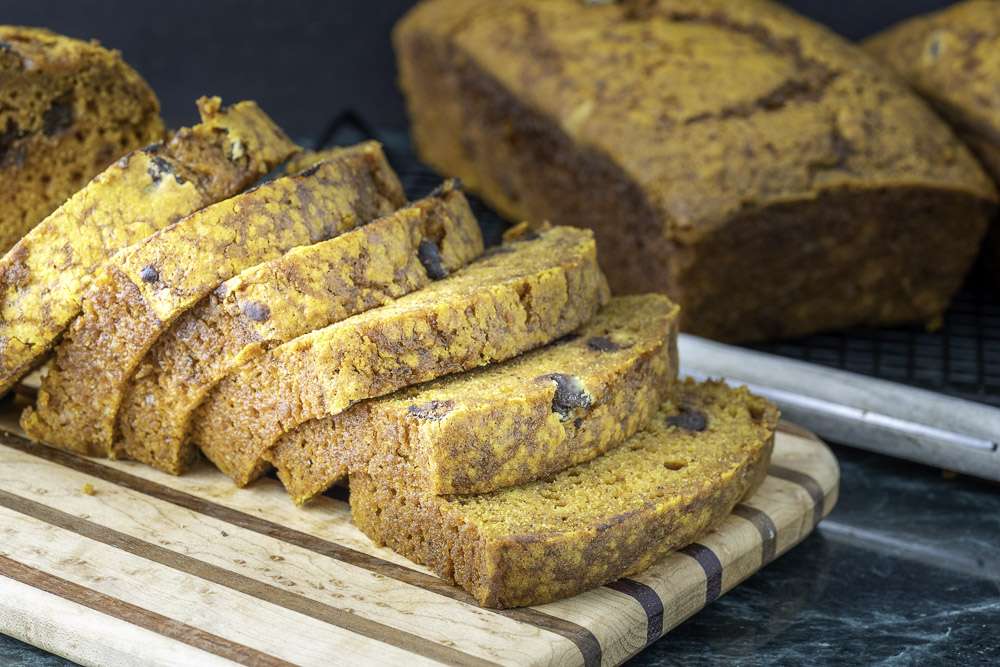 Quick breads are classified as quick because they are made with quick-acting leavening, baking powder or soda or both. This is instead of slower acting yeast. This bread can be made at the last minute and served hot and fresh from the oven.
To avoid the last minute rush just before a meal, mix the dough a couple of hours before you need it and refrigerate until it is time to bake.
The recipe also makes muffins.
Our Dysart's recipe has a good balance of spices in the bread, but you can adjust it to your personal preference.
Preheat oven to 350 degrees F. Spray one 9-by-5-inch loaf pan.
1 (15 ounce) can pumpkin puree
2 eggs
1/2 cup vegetable oil
1 1/2 cups white sugar
2 ½ cups all-purpose flour
1 teaspoons baking soda
2 teaspoons baking powder
1  teaspoons salt
1 teaspoon ground cinnamon
1/2 teaspoon ground nutmeg
1/4 teaspoon ground cloves
1 cup chocolate chips
1 cup walnuts (optional)


In a large bowl, mix together pumpkin puree, eggs, oil, water and sugar until well blended. In a separate bowl, whisk together the flour, baking soda, salt, cinnamon, nutmeg and cloves. Stir the dry ingredients into the pumpkin mixture until just blended. (Don't over mix.Pour into the prepared pans.

Bake for about 50 minutes in the preheated oven. Loaves are done when toothpick inserted in center comes out clean.
Mary Dysart Hartt