Purpleberry Pie
June 11, 2020
Purpleberry Pie – A pie with a purpose. $15 from every 11 inch pie is donated to Alzheimer's Charities. Servers 8 or more hungry people
What is Purpleberry? An outstanding blueberry pie with an Almond Crumble topping.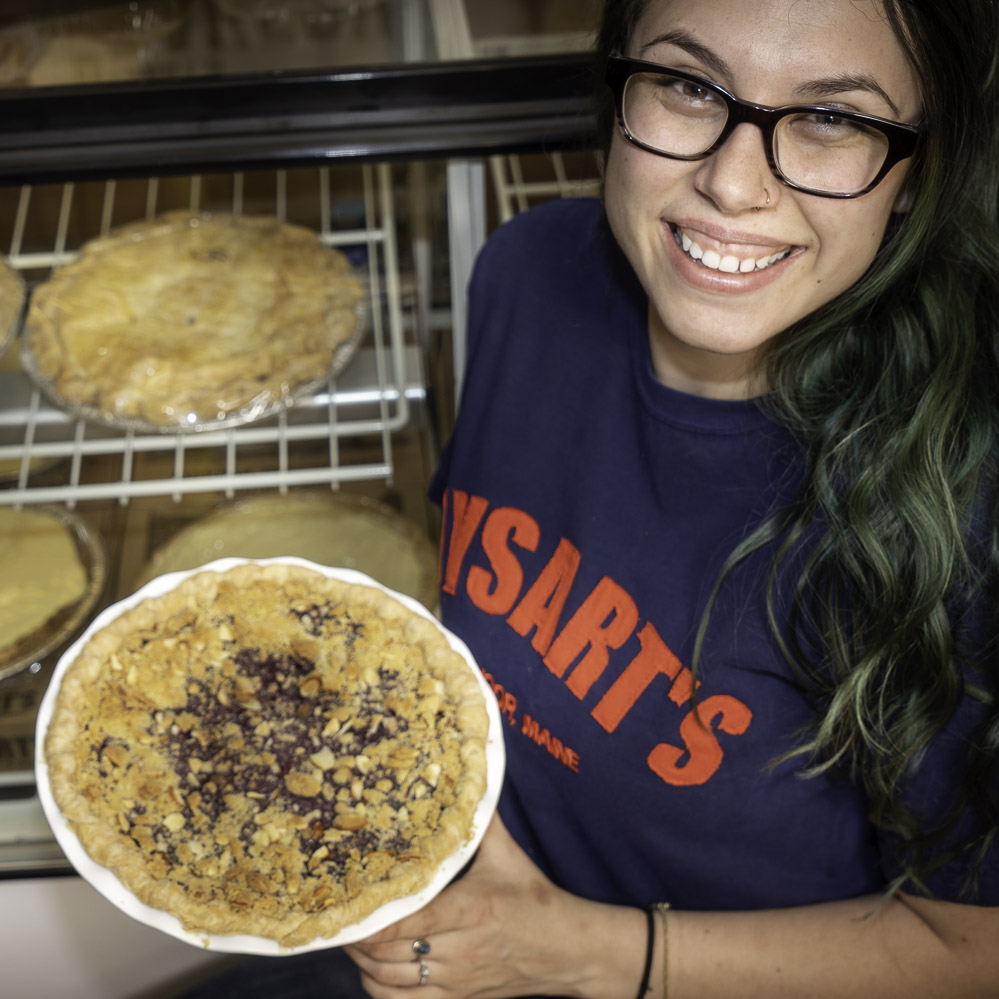 Mike Hartt and I met at Dysart's in 1970. He was a cute Hermon High School senior working as a pump jockey. I was working in the restaurant. Eventually, 43 years ago we got married, have one son and 2 wonderful grandchildren.
I'm not sure when I first noticed changes with Mike. Warning signs are very subtle. The difficult diagnosis of dementia was shocking. Friends gave us advice to travel to Boston for a second opinion.
In Boston Mike was diagnosed at 62 with a rare, A-typical Alzheimer's. He doesn't have a memory problem. Alzheimer's will attack different parts of the brain. The most common form is memory loss but there are many more presentations of dementias. In Boston we were given the advice to enjoy life and fill our bucket list. Since then we've had lots of fun, traveled to place we always wanted to go and are trying to give back to others dealing with a dementia.
One way of giving back is being Ambassadors for the State of Maine for the Alzheimer's Association. Because of this we were asked to speak at a Senate Hearing on April 2, 2019 to give the message of making a care plan.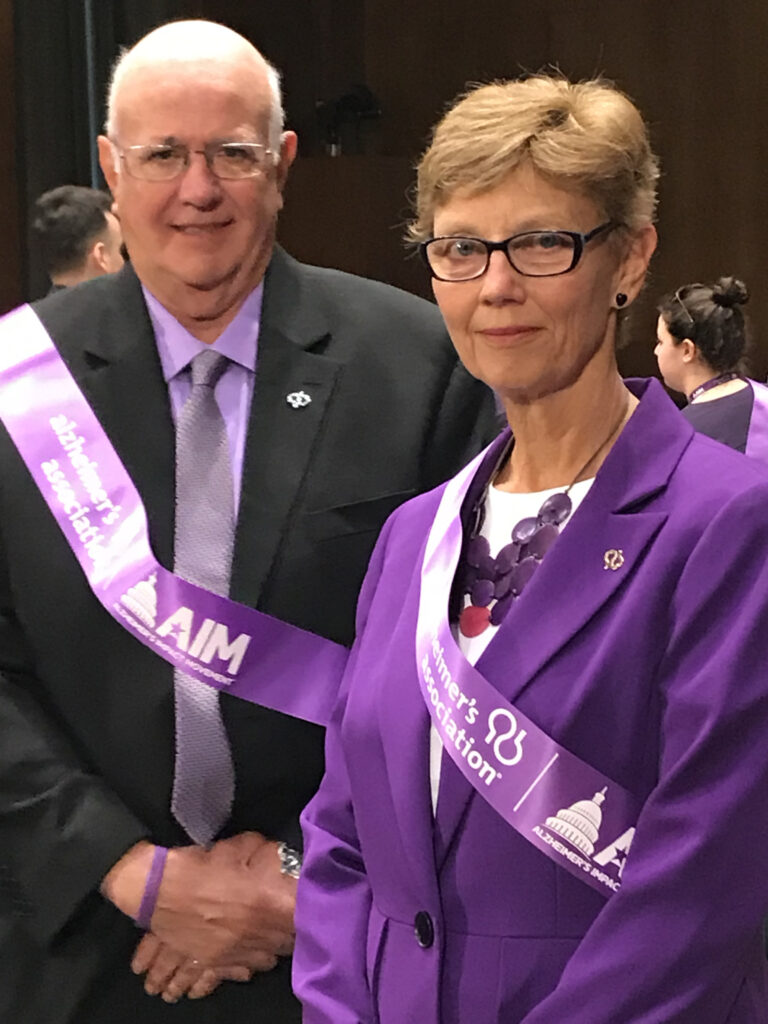 Mike has coped with his diagnosis by holding on to positivity and "seizing every day."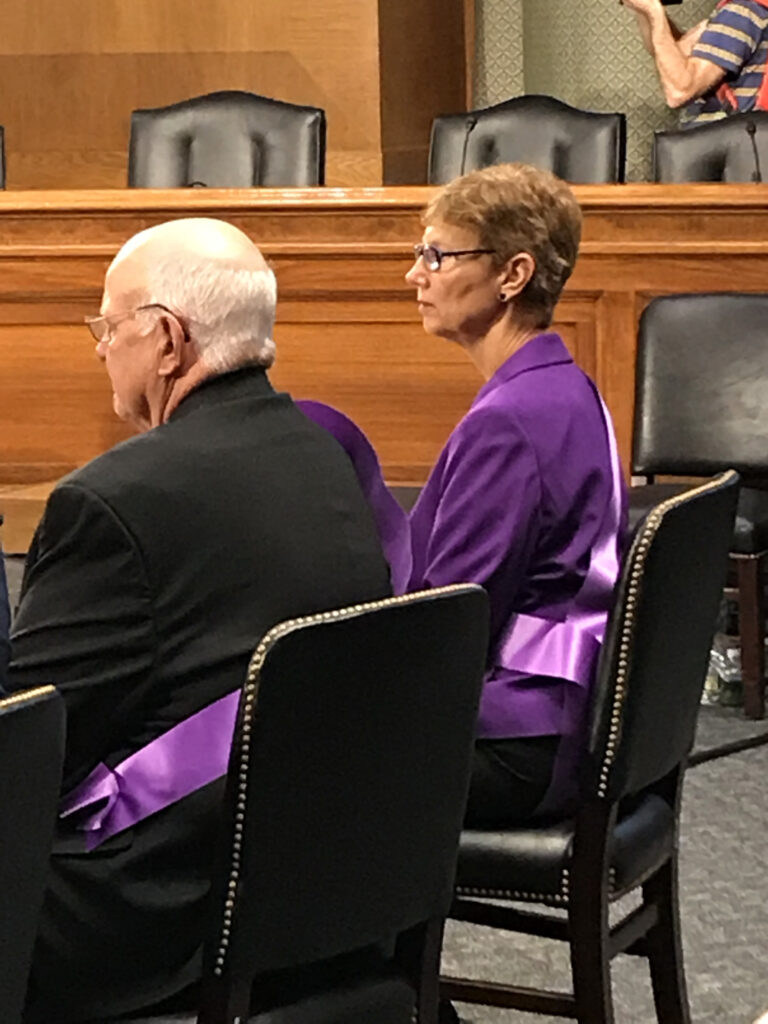 Purpleberry Pie was invented as another way to give back. We want to help find a cure. We also hope to help others with this diagnosis. Because of this, this year's Purpleberry funds ($15.00 from every pie sold) will be donated to The Bangor Region YMCA's Brain Health Activities Program. This critically needed program is near and dear to our hearts, as well as to the heart of Diane Dickerson, the CEO of the Y, who lost her mom to this devastating disease a year ago. The YMCA is partnering with The Center for Healthy Brain Aging and EMMC to launch this comprehensive program for ADRD patients and their caregivers. This program, developed with broad input from the Maine Alzheimer's Association, Eastern Area Agency on Aging, Jackson Lab and state-wide subject experts, will provide both physical, social and cognitive stimulation for enhanced cognitive and emotional functioning. It has full support from Maine Senators Angus King and Susan Collins. Leaders of the two collaborating partners, Diane of the YMCA and Dr. Cliff Singer have been invited by Maine Senators to speak at Regional and National forums to present their plans, which have potential for replication in other YMCAs regionally, as well as nationally. This program will be an evidence based, local community intervention that is accessible to all older adults and their caregivers in the area, no matter their financial ability to pay. The Bangor Region YMCA Brain Health Activities Program will provide a substantial financial assistance effort for those in need.
It is very important to have a caregiver who understands there are uncontrollable brain changes with a dementia diagnosis. The hope of the Bangor Y is to provide a program that educates the caregiver and patient to help them understand living with this disease. And provide support for the caregiver to stay mentally and physically healthy themselves. The YMCA's Brain Health Activities Program will provide all of this and more to both that special someone living with this disease and those loving caregivers who are devoting their lives to their care. Please help us raise the funds necessary to provide this critical program to those who need it most.

Purpleberry
1 pie crust
Filling
5 cups of frozen or fresh blueberries
2/3 cups of granulated sugar
1 Tablespoon of lemon Juice
3 Tablespoons flour
Crumble Ingredients
1 cup sliced Almonds
3/4 cup brown sugar
3 ounces butter
Dash of salt
3/4 cup flour
3 tablespoons flour
Directions
Preheat oven to 350 degrees
Fit 1 pie crust into a 11-inch pie plate fold edges under, and crimp. Prick bottom and sides of piecrust with a fork.
Make the crumble by combining the nuts, brown sugar, flour, and salt in a large bowl. Use pastry cutter to cut butter until the mixture forms small crumbs. Set aside.
Place blueberries in a bowl. Toss gently with sugar, lemon, and 3 tablespoons of flour.
Fill the crust with berries . Pour the crumble over the top and press down slightly to compact.
Place pie on a baking sheet to prevent spilling. Cover edges with foil for the first 30 minutes so it won't brown too quickly.
Bake for 50 minutes.