Yankee Pot Roast, Making it National
April 20, 2020
Esquire Magazine – September 2012
"Yankee pot roast for downstaters, lobster rolls for the tourists, and eggs how you like 'em all day. Save room for pie."
This was our second time to be in Esquire.
'67 THINGS WORTH A DETOUR' JULY 2002 – Esquire
"Dysart's Truck Stop, Just south of Bangor, Maine. Breakfast anytime, local blueberry pie, and waitresses who leave the coffee pot on your table. Stock up on all your trucking needs at the adjacent store – a toaster oven for your cab, say, or grab a pair of Yosemite Sam mudflaps – then grab a quick shower for five bucks."
The fun part of these old articles is seeing how menu items everyone loves, have stayed on Dysart's menus through the years. We always have blueberry pie and pot roast!
A number of years ago, we finally figured out how to make a tender pot roast every time. Pot roast, when made according to a few fundamental rules, can be a totally delicious family meal. There are lots of different ways to make pot roast but following these rules will make it tender.
The meat you use is important. Our favorite roast is the chuck roast; it has marbling throughout the meat Chuck roast winds up being tender and melt-in-your-mouth when given adequate cooking time and using a thermometer. You can't rush a pot roast; it will be tough if you try.
Yankee Pot Roast
4 pound beef roast. ( chuck works great)
8 potatoes
8 whole carrots
1 turnup
8 small onions or 2 large onions cut up
1 green cabbage (optional)
2 teaspoons each salt and pepper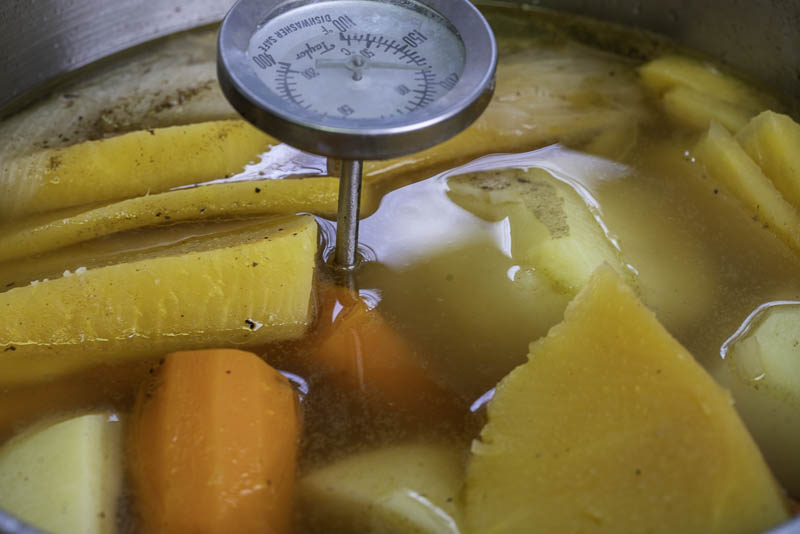 Pot roast is typically an inexpensive cut of meat, seared, covered, and cooked slowly with veggies. The best advice we can give to the home cook is to temp the meat to ensure tenderness. Near 200 degrees is ideal.
Hint: This is your pot roast. Put in the vegetables you like. I add more carrots because they are my favorite. I fill my pot with vegetables to ensure leftovers.
Cook beef in a heavy-bottomed pot or Dutch oven
Sear your roast on all sides to lock the juices inside. About 4 or 5 minutes each side.
Sprinkle with salt and pepper
Cover the meat and half the onions with water and bring to a boil
Turn the heat down and simmer for 2 1/2 hours
Add vegetables, simmer for another hour or until beef is tender (200 degrees internal) and vegetables are done
Temp the meat between 190 and 200 degrees
To make gravy: Remove the vegetables and beef from your pot. Skim the fat from the surface and discard it. Whisk together 1/4 cup of flour and 1/2 cup of cold water in a bowl until smooth. Bring 2 cups of the beef broth to a boil and slowly whisk in your flour mixture. Simmer until thickened.